The Town of Milton invites you to celebrate Earth Day on April 22. This annual and international initiative is aimed to diversify, educate, and activate the worldwide environmental movement. It's the largest climate change action movement across the globe with more than one billion participants.
Milton is committed to protecting the environment and keeping our community safe and clean for all to enjoy. A healthy planet is not an option — it's a necessity.
How you can make a difference
Join our two-week clean-up initiative:
When: April 15 – 30
Where:
Clean-up kits (garbage bags and gloves) will be available at the Milton Sports Centre during its hours of operation. When you have finished cleaning up, email a picture of where the garbage bags are located in the neighbourhood/park, number of bags collected, and number of participants to our operations team so we can collect bags in a timely manner.
Change starts with action! We know that individual actions make a lasting impact.
April 22 – Earth Day Clean-up in partnership with Sustainable Milton
Time: 9 a.m. - noon
Location: Milton Sports Centre and Lions Park
Clean-up supplies will be provided
Time: 9 a.m. - noon
Location: Milton Sports Centre (north side – retention pond area)
Naturalizing spaces by planting native species
Email us if you have any additional questions.
We're planting hundreds of trees
The Town applies a green lens to projects and initiatives using specific environmental, sustainable and energy conservation strategies. This year, we're planting hundreds of trees in streetscapes and parks. For reforestation efforts, an additional several hundred trees are being planted in partnership with Conservation Halton, Sustainable Milton, and Anne J. MacArthur Public School.
Join the scavenger hunt
How many items can you check off of the Earth Day 2023 scavenger hunt?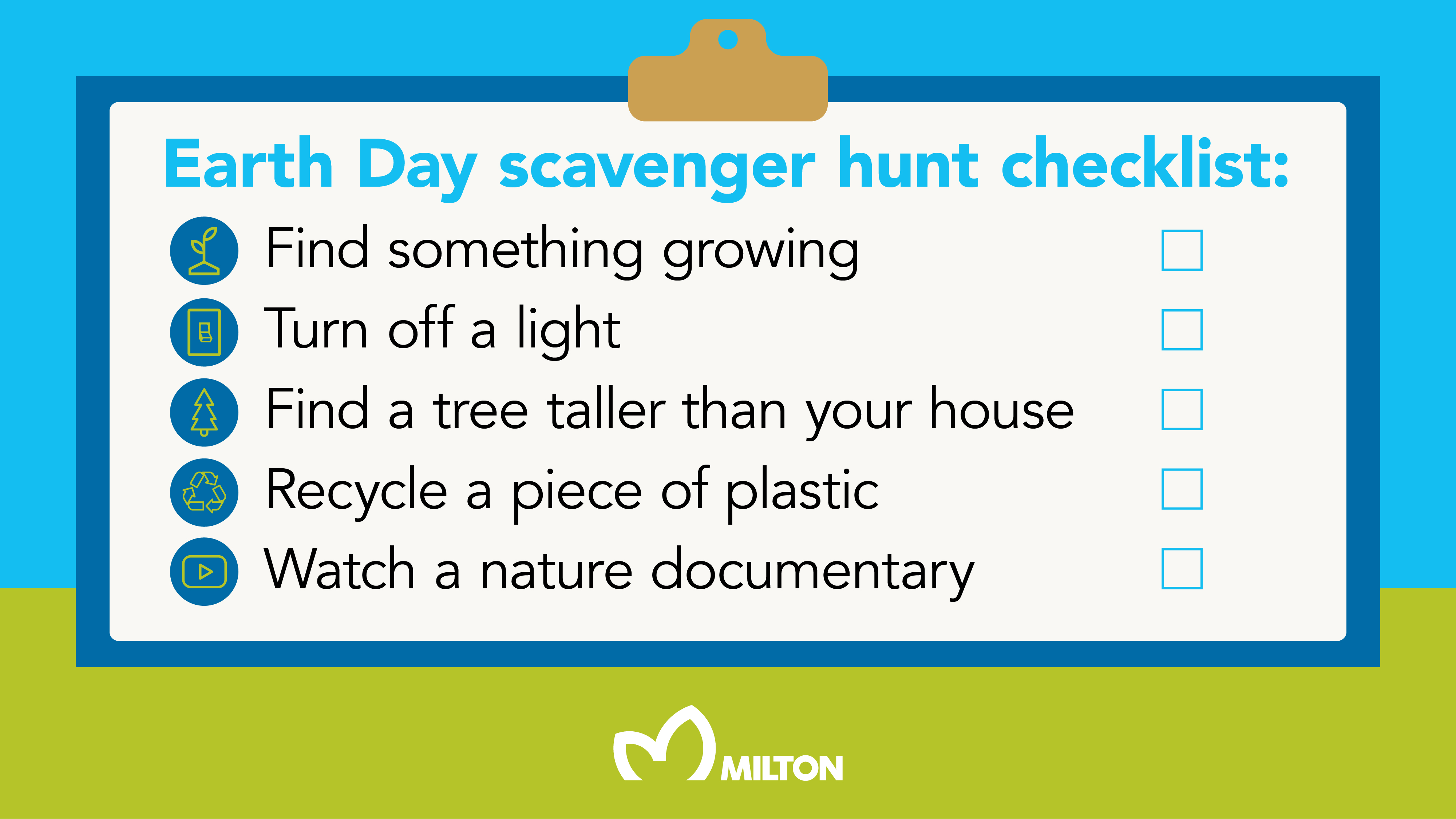 Items for the scavenger hunt checklist:
Find something growing
Turn off a light
Find a tree taller than your house
Recycle a piece of plastic
Watch a nature documentary on YouTube/streaming service
Tag us in your social posts
We want to see the differences that you're making in our community. Please let us know what you are doing on Earth Day and why is it important to you. Be sure to tag us in your posts and photos on Facebook, Twitter and LinkedIn.