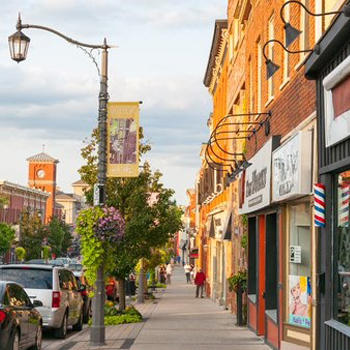 News Release
The Town of Milton has launched a Business Support Plan to assist local businesses during the COVID-19 pandemic. The plan includes specific measures that will help businesses navigate the unprecedented economic changes, uncertainty and pressures facing the local business community.
"I know business owners, employers, employees and residents recognize this is a rapidly changing situation that is causing economic pressures for businesses and residents here in Milton," said Mayor Gord Krantz. "That's why we have put together the following measures to support our business community through this crisis."
Milton's Business Support Plan includes:
Temporary Tax Relief
The Town of Milton is offering temporary tax relief for businesses by relaxing all penalties and fees for those that need to defer paying property taxes. The grace period runs from April 1 to June 30, 2020. For more information, please read the Town's Tax Relief FAQs.
Development Applications
The Town of Milton is currently accepting electronic submissions of development applications for Zoning By-law Amendments, Official Plan Amendments, Draft Plans of Subdivision and Condominium, Minor Variances, Consent, Site Plan Approval and Exemption from Part Lot Control. Prior to submission, email planning@milton.ca to make arrangements with the Town's Planning Administrator to ensure that you are able to make a complete submission.
Town staff are carrying out regularly scheduled pre-consultation meetings via teleconference or videoconference. To schedule a meeting, contact planning@milton.ca.
At this time, the Town is unable to move forward with statutory public meetings or Committee of Adjustment & Consent meetings. Town staff will continue to accept, process and review minor variance applications, but building permits will not be issued until a final decision is rendered by the Committee.
For more information about the Development Review process during this time, visit the Development Applications section on the Town's COVID-19 web page.

Building Services
Building permit applications that were submitted prior to the closure of Town Hall (March 17) continue to be reviewed. New permit applications can be submitted in PDF format to permitadmin@milton.ca.
Inspections of unoccupied sites under construction will be conducted independently by the Town's building official, provided the project is in open air and no more than two personnel are in the building. At this time, maintaining appropriate separation distances, inspections of occupied buildings will not be conducted at this time and inspection requests will be rescheduled as changes in Provincial restrictions are revised. Learn more about Building service changes on the Town's website.
Business License Renewals
At this time, business license renewal applications will not be processed immediately. Payments can still be made by cheque. Non-essential businesses can renew their licenses and pay the applicable licensing fees when they are operational again. For more information, contact licensing@milton.ca.
Business Forum Series
The COVID-19 crisis has seen the need for all levels of government to take significant and decisive action. This has included developing programs and financial assistance to help businesses survive.

Milton Economic Development, the Milton Chamber of Commerce, Adam van Koeverden, MP for Milton, and Parm Gill, MPP for Milton have teamed up to provide a series of free virtual forums to help provide clarity, direction and advice in these challenging times.

In each Forum, MP van Koeverden, MPP Gill, and Mayor Krantz will address a specific topic or sector and get into more details about the supports available. For more information, refer to Virtual Business Forum event details

Business Support Online Hub
The Town's Business Support online hub provides the latest updates on provincial and federal programs, grants, training and tool kits that are available to help the local business community get quick access to the information and resources they need.
Learn more on the Town's website milton.ca/BusinessSupport
Supporting Local Essential Businesses
Milton Economic Development has teamed up with the Milton Chamber of Commerce and local media partner 101.3FM to sponsor daily local radio segments and provide free promotions for local essential businesses that remain open to service the community.
To support local businesses, visit Milton Chamber of Commerce for a listing of Milton restaurants remaining open to serve the community with take-out and curbside pick-up options.
Staff Resources
The Milton Economic Development team is available to assist businesses during this challenging time at EconomicDevelopment@milton.ca.
For more information about the Town's response to the evolving COVID-19 situation, visit milton.ca/coronavirus.
- 30 –
For media inquiries, please contact:
Tracy Hasselfeldt
Communications & Marketing Advisor
905-878-7252 x2196