2021 budget highlights
Through the leadership of Council, the Town has created a strategic long-term budget to fulfill community expectations and needs. The 2021 budget delivers investments in our community while balancing affordability and better positions Milton as an inclusive, diverse and complete community.
The 2021 budget invests in the Council-Staff priorities while balancing taxpayer affordability and therefore the 2021 budget themes include investment and focus in:
Customer service
Modernization of services
Environmental and financial sustainability
Economic development
Asset management
Value for tax dollar
A portion of every property tax dollar is used to provide a wide range of programs and services to ensure a high quality of life for residents.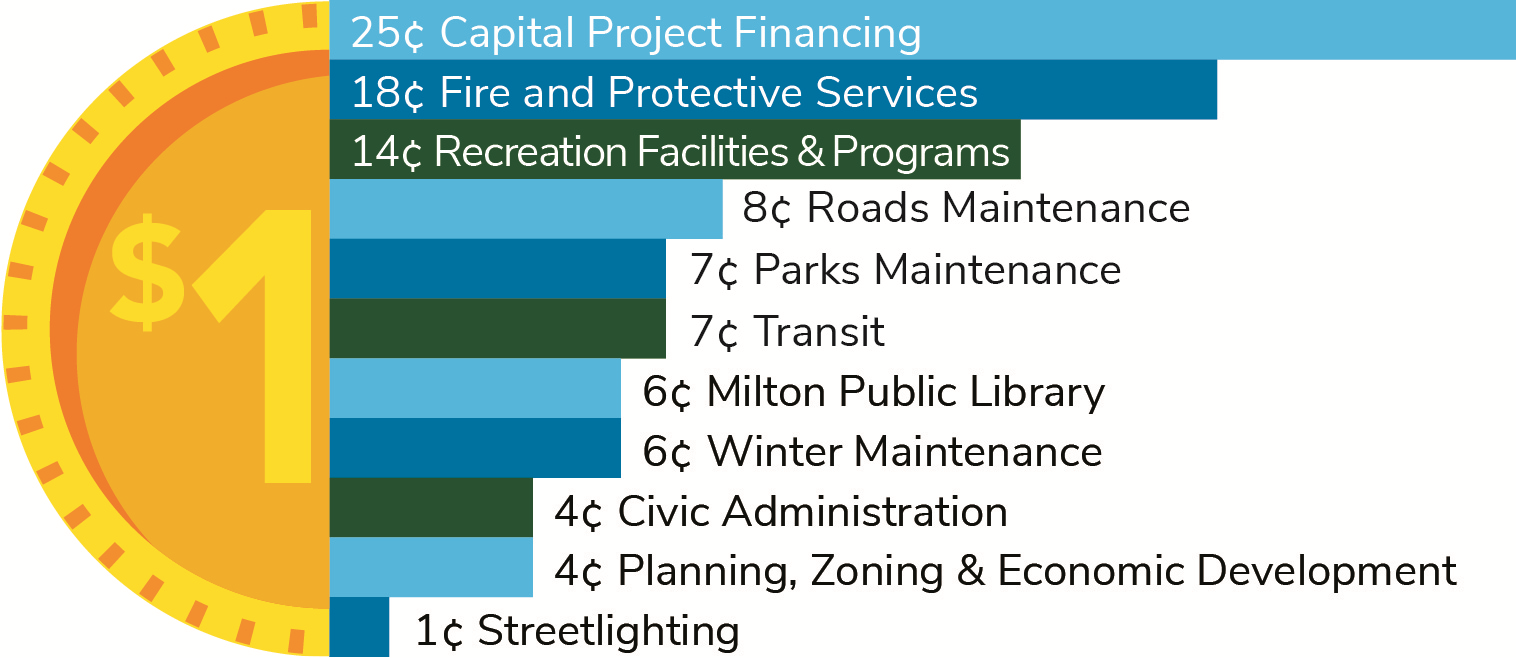 Services funded by your property tax bill
In addition to the Town of Milton, other agencies using property tax funds include Halton Region and the school boards, for the delivery of their community programs and services. The impact to property taxes is a combination of three agencies.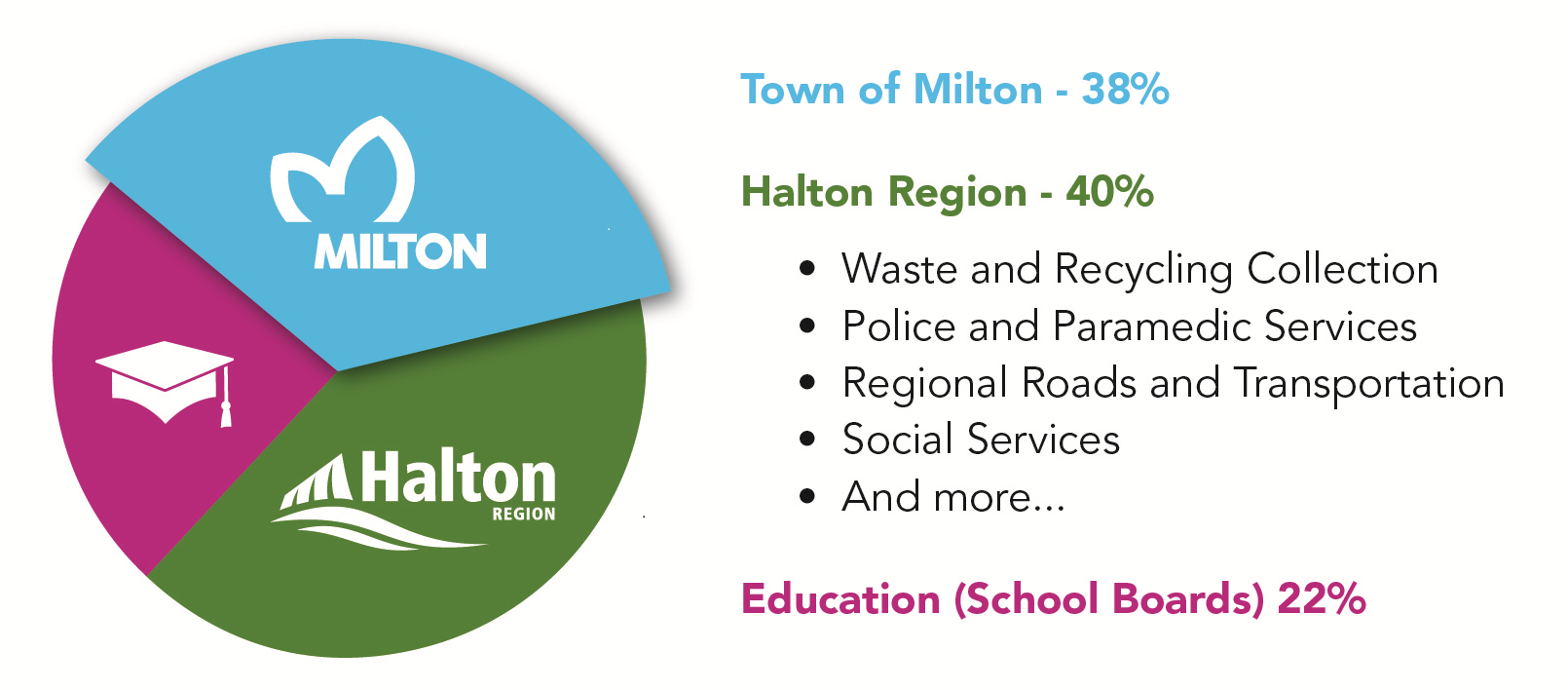 ---
Capital budget
Investing in infrastructure to support a complete community
A growing municipality like Milton needs to invest in both new infrastructure and the renewal of existing assets, such as roads, facilities and parks. The 2021 capital program includes 109 projects valued at $56.2 million to provide programs and services to the community. Here is a snapshot of our capital investment in the community for 2021:
Transportation – 59.3 per cent
Information technology – 12.6 per cent
Public facilities – 6.7 per cent
Parks & trails – 6.1 per cent
Development studies/financing – 5.7 per cent
Stormwater – 2.6 per cent
Library - 2.4 per cent
Administration – 2.1 per cent
Fire – 1.9 per cent
Transit – 0.6 per cent
How is the capital budget funded?
The development of new and the rehabilitation of old infrastructure to provide services to the community is very costly. Milton continues to actively pursue all available external financing opportunities, such as developer funding for growth and other grants to lessen the financial impact on taxpayers. $24.5 million, or almost 50 per cent, of this year's capital program is funded from external sources, largely from development charge revenues.
Reserves and reserve funds – 53.8 per cent
Developer funding – 22.6 per cent
Debentures – 13.9 per cent
Grants – 9.1 per cent
Donations – 0.6 per cent
Operating budget
Operating budget investments to support a complete community
Every day residents rely on municipal services such as transportation, parks, recreation and fire. The operating budget funds the day-to-day operations of the Town including the financing of capital projects through debt payments and transfers to reserves. The 2021 gross operating budget provides for $147.4 million in spending on people, contracts and other expenses to deliver the programs and services to Milton's growing community:
Salaries and benefits – 38.8 per cent
Transfers to own funds – 28.8 per cent
Purchased services – 17.3 per cent
Reallocated expenses – 4.6 per cent
Purchased goods – 3.4 per cent
Financial – 2.9 per cent
Fleet expenses – 1.7 per cent
Hospital – 1.7 per cent
Administrative – 0.8 per cent
How is the operating budget funded?
The 2021 gross operating budget leverages a variety of funding sources other than property taxes to support service delivery. These other sources, including user fees, service charges, grants and recoveries, account for almost half of the $147.4 million gross budget.
Non-property tax revenues – 47 per cent
Property tax revenues – 53 per cent
How Milton's taxes compare to surrounding municipalities
Milton continues to maintain one of the most affordable property tax rates within the province. Milton is tied for second lowest in the GTA at 3.4 per cent and second lowest in the province (2019 BMA Municipal Study).
Figure: Municipal property taxes and rates as a per cent of household income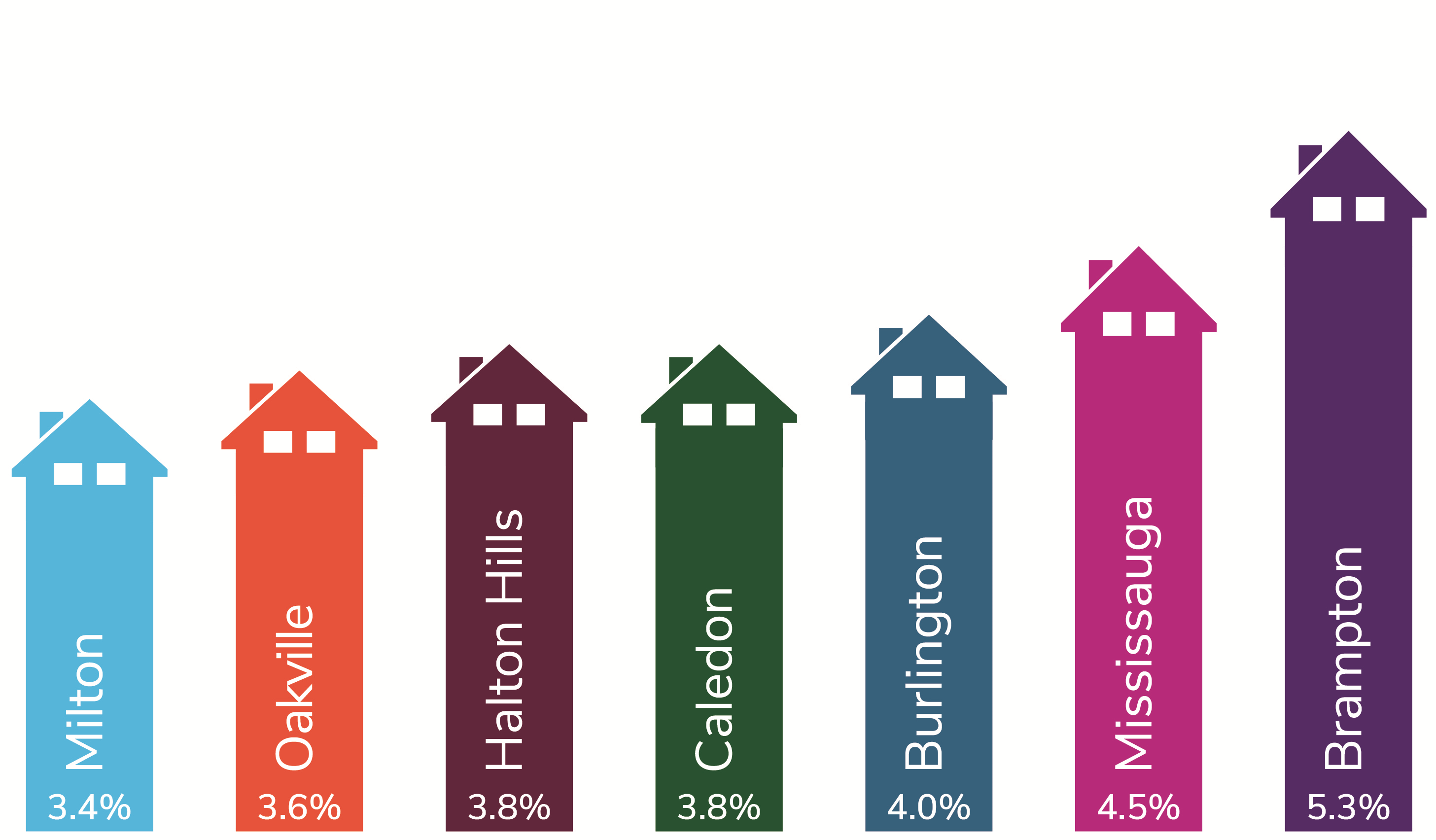 2021 budget impact to property tax taxes
In addition to the Town of Milton's portion (38 per cent) of the tax bill, property taxes pay for the delivery of community programs and services by Halton Region (including waste) (40 per cent) and the school boards (22 per cent).
Milton's portion of the property tax bill increases by 3.93 per cent in 2021.
Household impact is based on all three agencies and your property assessment (overseen by MPAC). Therefore the overall 2021 blended rate is 2.19 per cent resulting in an increase of $14.67 per $100,000 of residential assessment on a property tax bill.