With 2020 being an unprecedented year due to the COVID-19 pandemic, Milton's Economic Development department is proud to share highlights of how it supported local businesses during difficult times.
Because of the pandemic, the Economic Development team focused many of their programs and services to support businesses where they needed it the most. This included creating new innovative programs, such as the Temporary Patio and Digital Main Street programs. Programs such as these were designed and implemented with the goal of supporting businesses over the past year.
Even with a change in focus to supporting local businesses through the pandemic, our team continued to work on advancing opportunities to attract knowledge based jobs and investment to Milton. Using proactive marketing and business development activities, the team was able to support key initiatives, such as the Milton Education Village.
Learn more about how Milton's Economic Development team supported local business through the pandemic by reading our 2020 highlights section below.
The Plan: Roadmap and COVID Action Plan
Milton's Economic Development Strategic Plan is founded on three pillars: attraction, growth and innovation. Through ongoing business attraction programs, local, and national partnership development, our plan focuses on attracting new investment and development opportunities to the community.
Economic roadmap – 3 pillars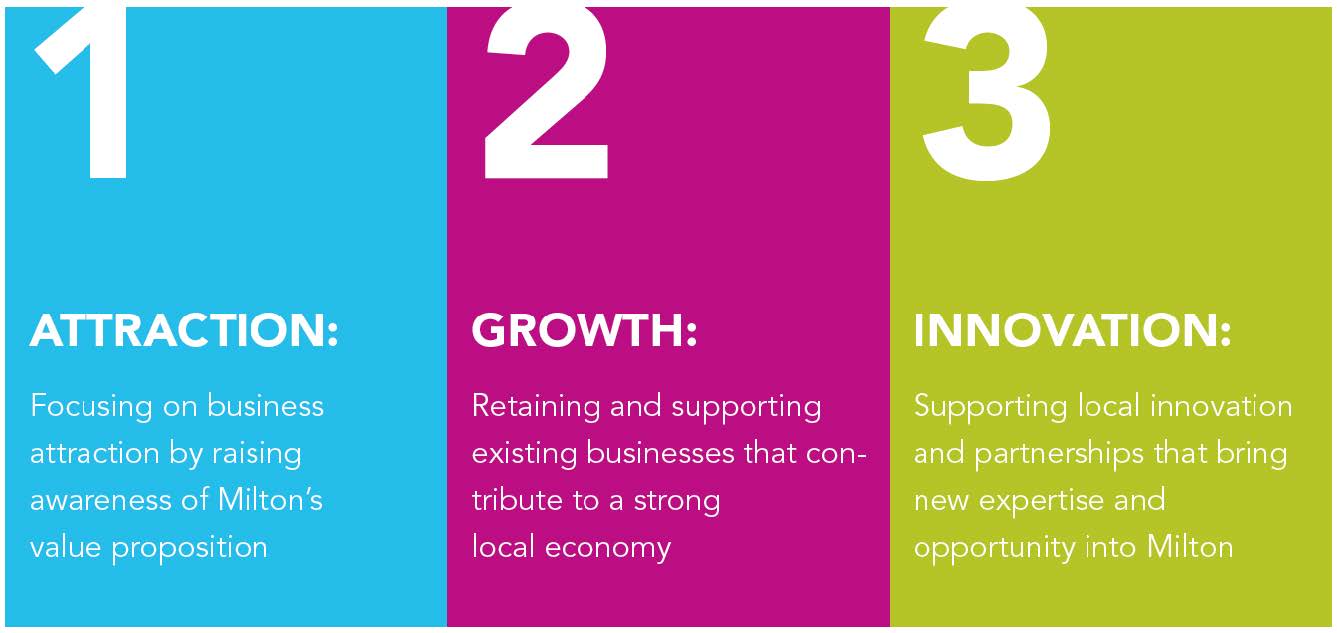 Despite a difficult year with new challenges, we remained active in:
pursuing long-term economic initiatives fundamental to the Economic Development Strategic Plan;
supporting continued Industrial, Commercial, and Institutional (ICI) development; and
helping our innovative local business community through the challenges of the pandemic.
Our economic development team is the gateway for investment inquiries. We support opportunities by:
Raising awareness of Milton's prime location along Ontario's Innovation Corridor. This prime location offers investors, real estate professionals, and the broker community a vision for future development.
Highlighting Milton's innovative business community and skilled talent to:

draw interest from knowledge-based industries
have industries take part in site selection activities
offer locations for industries looking to transition, expand, and move to the GTA West

Advancing partnerships and initiatives to bring new expertise, innovation, and post-secondary education to the community.
Action plan
In response to COVID-19, Milton put in place an Economic Development Action Plan. This three-phase plan offers resources to assist Milton's hardest hit sectors.

Milton's Economic Action Plan sets a flexible framework for moving between the Government of Ontario's COVID-19 Response Framework. Our plan addresses and advocates for ongoing support of our local business community needs. We continue to work in partnership with other levels of government through this plan.
2020 economic support
Quick highlights
Supported 2.6 million square feet in expansion of and new Industrial, Commercial and Institutional (ICI) development in 2020
Maintained steady non-residential assessment growth (22%)
Over 180 investment inquiries related to business retention, relocation, and expansion in 2020

This led to approximately 1.2 million square feet in development

Broke ground on new industrial development sites in Derry Green Business Park

This includes completing a new industrial warehouse by Menkes Development - a $17 million investment

Finalized new landowner partnership deal on Milton Education Village land
Managed over 250 COVID-19 related inquiries. Needs included:

storage needs
PPE procurement for essential businesses
temporary staffing support
navigating financial relief programs

legislation requirements for the business community
New initiatives spurred by 2020 pandemic
The following programs focused on assisting the local business community through the pandemic. These are some of the initiatives launched in 2020 to support Milton's Economic Action Plan.
Creation of Milton's Economic Recovery Task Force
The Town of Milton launched the COVID-19 Economic Recovery Task Force in May. The Task Force focused on addressing local economic recovery. These efforts included:
Advocacy for support to at all levels of government. This included targeted relief measures and stimulus funding for the hardest hit sectors
Guidance of Milton's local economic recovery efforts. Offered expertise and recommendations on the development of longer-term goals and tactics
Ensuring Milton's local response aligns with other levels of government. Worked towards the Province's three-phased plan for re-opening Ontario's economy
The Milton Economic Recovery Task Force includes a variety of sectors, four levels of government and academia. Input from this group is critical to Milton helping support local businesses speed up recovery efforts. The task force meets often to:
focus efforts on strategies for a post-COVID economy in Milton; and
provide recommendations to Town of Milton staff.
Developing and leading Milton's first Temporary Patio Program
Milton Council approved the Temporary Patio Program to support local businesses through COVID-19. The Program allows restaurants to apply for outdoor patio extensions. This allowed restaurants to obey the Province of Ontario's re-opening framework requirements.
Received over 25 applications in the first two weeks
Processed the average application in two days
95% of participating restaurants provided positive feedback on the pilot program
80% of restaurants reported the program increased their annual revenue in 2020
95% of restaurants that took part in 2020 intend to take part in 2021
Supporting Milton's first Digital Service Squad
Partnership with the Downtown Business Improvement Area
In partnership with the Downtown Business Improvement Area, Milton launched its first Digital Main Street program. This program offers main street small businesses with support, resources, and skills to:
help build an online presence;
adopt new technologies;
promote products and services; and
advance their ecommerce tools.
The program saw 50 local businesses take part and apply for the Digital Transformation Grant funding.
PPE Portal Partnership
Partnership with the Chamber of Commerce
Milton was proud to support the Micro PPE Procurement Portal that began in April 2020. The program helped local hospitals, long-term care facilities, and essential service businesses with their Personal Protective Equipment (PPE) needs. The collaboration between industry and all levels of government kept businesses operating safely through the pandemic. Its success led to the program expanding to become a resource for local essential service companies.
Chamber COVID-19 Webinar Series
Hosted by the Chamber of Commerce in partnership with the Federal and Provincial Governments
The Town of Milton worked with our partners at both the Federal and Provincial levels to support business questions about:
financial programs
funding help
locating PPE
navigating the changing legislation
Milton's Economic Development also participated in the Virtual COVID-19 Business Forums. These online forums were a series of live chats to address urgent questions. Participants included all levels of government and the Milton Chamber of Commerce. The series ran weekly for almost two months. These forums told the business community about emerging programs, grants, and applicable benefits.
Led and hosted Virtual Digital Learning Series
The only constant in 2020 was that embracing change sets organizations up for success. This led Milton to develop a workshop that provided:
positive change strategies;
examples of real world business success; and
discussion of emerging research on team management during a pandemic.
Over 30 local businesses took part in the "Managing Change on the Path to Recovery" learning series. The workshops ensured business had access to the tools necessary to adapt and grow during the pandemic.
Digital toolkit seminars
The pandemic has disrupted the global economy. Large and small companies have faced challenges, but small companies have felt the greatest impact. Within Milton, two-thirds of businesses are independently owned. Technology plays a critical role in an organizations' ability to grow with the market and increase value to customers. Smaller businesses, without resources dedicated to digital transformations, were struggling. Without subject matter experts on staff, social media platforms, e-mail marketing, website development, and content creation were difficult to execute for smaller companies. Therefore, we developed programs to ensure businesses of all sizes could access experts to help with their digital transformation. Through interactive digital seminars, over 600 businesses took part. The seminars helped small business owners understand the power of digital channels as part of their marketing strategies. This led to tangible results for their business during a trying economic time.
Relaunching website and digital asset enhancements
Remote working brought a renewed focus on the Economic Development digital portfolio and web presence in 2020. An updated website offered:
new interactive and visual community information
improved user experience
enhancements to the popular data hub tool
We also created a new resource page to assist businesses find critical COVID-19 support and resources. The redeveloped Economic Development site saw a 50% increase in visits from the previous year.
Local and regional committees
The Town of Milton also took part in Local and Regional Committees, such as:
GTA Economic Recovery Alliance Working Group
Milton Economic Development Advisory Group
Mayor's Roundtable Working Group
Halton Region Tourism & Retail Committee
Milton Chamber of Commerce Government Relations Group
Advanced Manufacturing Supercluster (AMS) Halton Working Group
Milton Education Village
The Town of Milton's vision for the Milton Education Village (MEV) is a complete community that incorporates a joint Wilfrid Laurier University-Conestoga College post-secondary campus with a mix of other complementary uses into a comprehensively planned neighbourhood.
In December 2020, Milton Town Council approved the Secondary Plan for the Milton Education Village, and directed staff to explore options for expediting development with the Province of Ontario. The proposed Secondary Plan includes policies with detailed land use permissions to facilitate a mixed-use complete community and innovation district anchored by the post-secondary education campus. At full build out, it is estimated that the MEV could accommodate over 12,000 residents and 2,500 knowledge-based industry jobs.
Each of Milton's post-secondary partners continued to establish a presence in the community in 2020. In January 2020, Laurier launched their first degree (Masters of Education) and professional development (Faculty of Social Work) programs in Milton. The first group of students started attending class in person at the MEV Innovation Centre, before moving online due to the pandemic. In late 2020, Conestoga College formally opened their first classroom space in Milton, offering flexible test space for students.