An application for a new quarry at 9210 Twiss Road, located west of the intersection at Reid Side Road and Twiss Road has been submitted to the Ministry of Natural Resources and Forestry (MNRF) by James Dick Construction Limited (JDCL). No corresponding Planning Act applications have been filed with the Town of Milton or Halton Region.
The application proposes to reactivate the former Woodlawn Guelph Campbellville Pit that previously had its licence revoked by the MNRF in 2008.
JDCL has applied for a Class A Category 1 & 2 licence, covering approximately 29.4 hectares (73 acres) with an extraction area of approximately 25.7 hectares (63.5 acres) for sand, gravel, and bedrock. The maximum annual tonnage is proposed to be approximately 990,000 tonnes.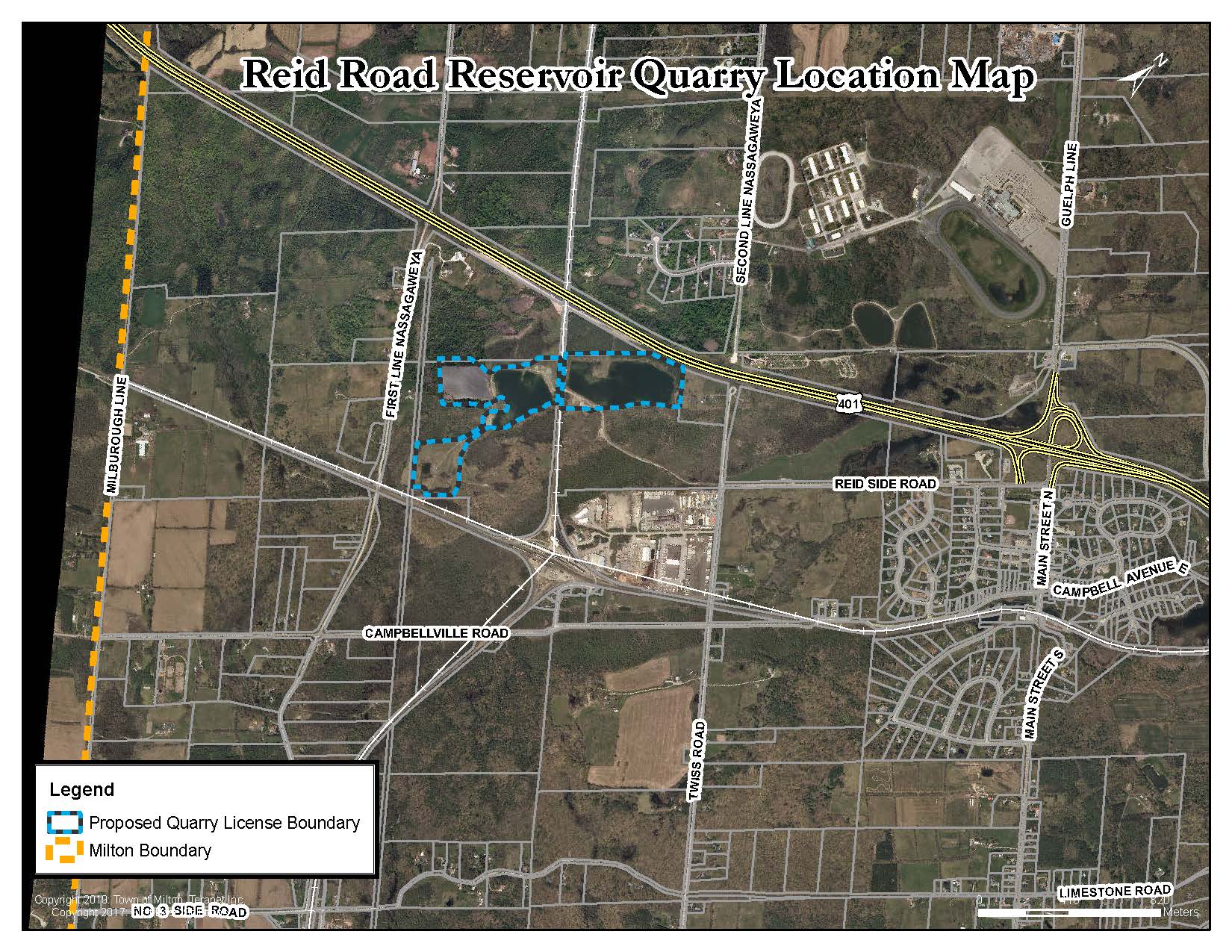 Project Status
Joint Agency Review Team
The Town of Milton, Halton Region and Conservation Halton are participating in the ARA application review process, managed by MNRF, through a Joint Agency Review Team (JART). The JART process ensures that the technical review undertaken by the public agencies is completed in a coordinated, comprehensive and efficient manner.
JART released its initial review comments to the applicant and the MNRF on July 31, 2019. The cover letter summarizes the key issues with JDCL's submission and a detailed comment table was prepared by agency staff with input from the Region's retained consultants.
The Town of Milton and Halton Region await a response from JDCL to the JART comments.
Environmental Assessment
On July 25, 2019, Member of Provincial Parliament for Milton, Parm Gill, formally requested that the Minister of Environment, Conservation and Parks (MECP) undertake an Environmental Assessment (EA) of the proposed Reid Road Reservoir quarry project.
Letter of Objection
In September 2018, Milton issued a Letter of Objection to JDCL and MNRF, outlining its issues with the application as proposed at the time. Some of the issues included:
Potential effects on nearby communities have not been adequately addressed
Potential effects on the environment have not been adequately addressed
Potential effects on ground and surface water resources, including on drinking water sources and private wells, have not been adequately addressed
The suitability of the progressive and final rehabilitation plans for the site have not been adequately addressed
Detailed consideration should be given to planning and land use matters
Contact us to request copies of any documentation, including staff reports.