What is stormwater?
In a natural environment, rain and melted snow fall onto soft surfaces such a grass and infiltrate into the ground. In urbanized areas, rain and melted snow fall onto hard surfaces like roads, driveways and sidewalks and continue to travel without infiltrating. This can cause flooding.
As the rain and melted snow flows across these hard surfaces it collects oil, dirt and pollutants. The rainwater mixed with pollutants then flows into our storm sewers, stormwater management ponds, rivers and natural waterways. The Ministry of the Environment, Conservation and Parks (MECP) defines this mixture of rainwater and pollutants as municipal sewage.
What is a stormwater management pond?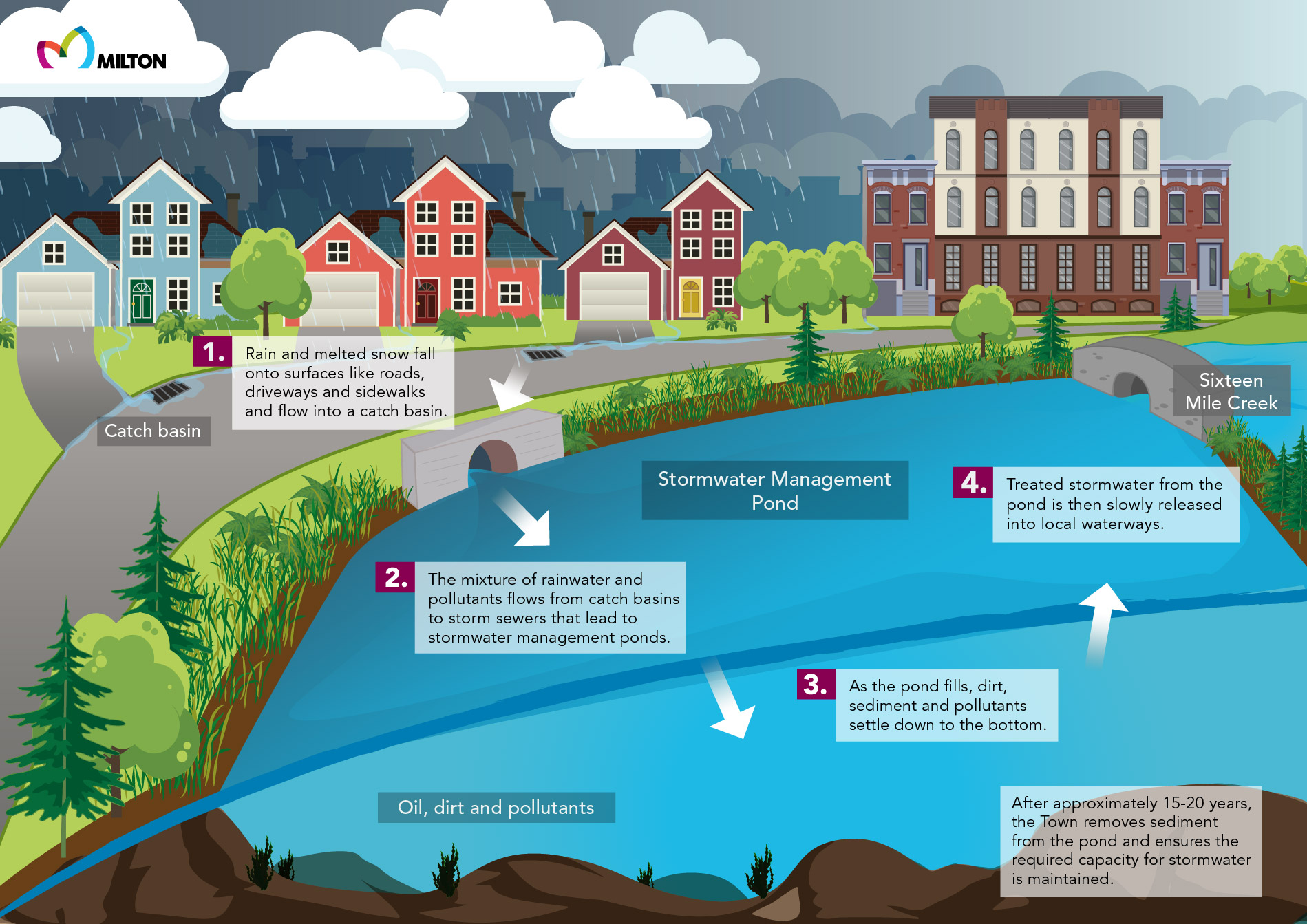 A stormwater management pond is man-made infrastructure built to collect and treat rainfall and surface water runoff, as required by MECP legislation. The ponds are usually found in neighbourhoods, where stormwater can easily be collected and treated.
During rainfall, stormwater flows into the pond and fills the basin of the pond. As the pond fills, dirt, sediment and pollutants settle down to the bottom. When the pond fills to its capacity, the water spills out at a controlled rate to reduce flooding and erosion to local waterways. The pollutants and sediment are left behind in the pond. Aquatic plants in the pond help with treating pollutants and plants around the edges of the pond help to stabilize banks and shade the water.
Staying safe around the pond
As these ponds mature, they are also pleasant to look at and walk near. Practice safety when around a stormwater pond as water levels can change quickly during storm events.
Do:
Keep catch basins clear of debris
Enjoy passive recreation around the ponds (walking, bird watching)
Report illegal dumping to the Town by calling 905-878-7252
Don't:
Put anything, including garbage and pollutants, down catch basins or in a stormwater management ponds
Engage in recreational activities (skating, swimming, fishing, boating, etc.) in the ponds
Winter water safety
Areas with frozen lakes, ponds, channels and reservoirs can be beautiful places to visit during the winter months but all too often many people risk their lives by venturing onto frozen water.
It's important to be aware of the dangers and risks associated with water and ice at this time of year.
Stormwater management ponds
The Town of Milton has approximately 60 stormwater management ponds. We do not monitor ice conditions on storm water management ponds. It is dangerous to walk, play or skate on any ice surface that has areas of open water. Stormwater management ponds are unsafe for skating, tobogganing, and ice hockey for a number of reasons:
Due to the continuous flow of water in these ponds, the ice that forms in winter is unstable
The ice depth varies across the pond's surface
Many ponds collect road runoff that may contain salt, which lowers the freezing temperature of the water
Please stay off stormwater management ponds at all times.
Pets
Please keep your pets on a leash when walking near ice-covered water. Pets are not aware of the hidden danger of falling through the ice. If your pet does happen to get loose on the ice, coax it back to shore - do not go after it. If your pet falls through the ice call 911 immediately. Do not attempt to rescue your pet yourself. The fire department will respond with ice rescue equipment and attempt to rescue your pet.
Outdoor skating
Throughout winter months, skating is prohibited on bodies of water such as stormwater management ponds and channels.
Other ways to protect yourself outdoors this winter
Inform others of your destination and expected time of return
Check weather conditions
Dress in layers to protect against hypothermia (decreased body temperature)
If you see someone fall through the ice call 911 immediately. Do not try to go out on to the ice to help them.
More information about winter water safety can be found on the Life Saving Society website.
Frequently Asked Questions
How does Milton manage stormwater?
We manage stormwater with a robust infrastructure system. Stormwater flows over hard surfaces and is captured in catch basins within the Town's roads. These catch basins are connected to storm sewers that lead to stormwater management ponds.
How does Milton manage stormwater management ponds?
The Town owns and operates stormwater management ponds after assumption of a subdivision. We inspect the ponds annually and conduct an in-depth inspection, including the measurement of sediment every five years. After approximately 15 to 20 years, the Town removes sediment from the pond.
To remove sediment, we need to pump water out of the pond, relocate wildlife and remove sediment with the use of heavy machinery. This process is invasive, but is also necessary to ensure that there is space available in the basin to continue collecting stormwater and sediment, in order to reduce flooding and protect local waterways.